Posted on November 18, 2020
A home warranty is a simple and effective way for homeowners and landlords to protect their budgets and keep their housing costs under control. But what should your home warranty cover? 
In this guide, we take a look at what a typical home warranty does and doesn't cover and explore other aspects of these policies, such as whether there are limitations on the number of times you can claim. 
What does a home warranty cover?
A home warranty is an annual service contract that covers the cost of repairing and replacing household appliances, including washers, dryers, refrigerators and stoves, and/or household systems such as your air conditioning or plumbing. 
If a household appliance or system has a fault that's the result of normal wear and tear, rather than having to pay the full cost for a repair or replacement, which could be thousands of dollars, you pay a simple service fee, which typically ranges from $60-$120. The home warranty provider will then repair or replace the appliance at no additional cost.
Deciding what level of home warranty cover you require depends on your personal circumstances, including your household budget, the age of your appliances and systems and the likely cost to repair or replace them yourself. The cover provided by home warranty companies will differ, so shop around to find a plan that's the perfect fit for your budget and requirements.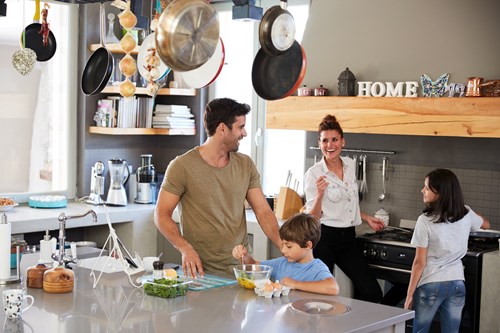 What appliances and systems are covered by a home warranty? 
It's common for home warranty providers to split up their plans by systems and appliances. So an appliance-only plan will provide cover when a key domestic appliance is faulty, and a systems-only plan will protect you from an air conditioning, electrical or plumbing fault and more. Policies will generally protect all of the components that are necessary for the operation of the appliance or system.
These are the appliances and systems that are typically covered under a home warranty:
| | |
| --- | --- |
| Appliance-Only Policy | System-Only Policy |
| Clothes Washer | Air Conditioning |
| Clothes Dryer | Heating |
| Kitchen Refrigerator | Electrical |
| Dishwasher | Plumbing |
| Trash Compactor | Water Heater |
| Built-In Microwave | Garbage Disposal |
| Range/Oven/Cooktop | Instant Water Dispenser |
| Exhaust Fan  | Smoke Dispenser |
| Wine Refrigerator | Ceiling Fans |
However, this is not the only cover a home warranty can provide. Some home warranty companies also allow policyholders to include optional add-ons to their service contract. That includes:
Swimming pool and spa equipment
Pest control services 
Septic tank and pumping
Roof leaks 
Pre-season HVAC maintenance
And more...
What does a home warranty not cover?   
Most home warranty policies cover the repair and replacement of appliances and systems that have failed due to normal wear and tear. They do not provide cover for appliances and systems that are damaged by unexpected events such as theft, fire or storm damage. That cover will be provided by a homeowners insurance policy. 
There are also some other causes of malfunctions that are unlikely to be covered by a home warranty. That includes:
Pre-existing conditions that are present before the home warranty begins
Improper installation or maintenance
Misuse of the appliance or system i.e. using it for non-residential purposes
Cosmetic issues
When does home warranty cover begin?
A 30-day waiting period is usually required before the cover begins, but some providers do offer instant cover with proof of uninterrupted service to ensure there's no lapse in coverage. 
Is there a limit to the number of repairs I'm covered for? 
That will depend on the specific terms of your contract. However, it's often the case that there's no limit on the number of claims you can make. 
How long does home warranty cover last? 
Most home warranty policies last for 12 months and can be renewed once they expire. However, some policies are also available that can provide cover for three and even five years.
Quality home warranty cover from Go Assist
With comprehensive protection for appliance breakdowns, quick repairs from vetted local technicians and a simple service request process, it's no surprise that Go Assist is quickly becoming America's favorite home appliance warranty provider. Find out more about our cover and call our experts on (800) 59-5917 today.