Posted on August 20, 2020
Where are the Best Places to Live in Texas?
As our local appliance repair engineers know, one of the hardest things about living in Texas is deciding which part of the Lone Star State to call home. The state spans 268,000 miles and has seven distinct geographical areas, so there's certainly no shortage of choice. The state also boasts affordable housing, low state taxes, and an unbeatable climate, so whether you're looking for the big city or coastal living, it's sure to have something for you. 
Where are the best places to live in Texas? Here's the Go Assist guide. 
1. The Woodlands
In recent years, The Woodlands has been ranked as the second-best city to call home in the whole of America, so it's only right that it claims the top spot in our guide. The compact city has 116,000 residents, making it the perfect size for people who want plenty of amenities nearby without the congestion of a bigger city. It also gets top marks for education, low crime, and extremely low unemployment rates. 
The Woodlands is just a 30-mile drive from the 163,037-acre Sam Houston National Forest, so you can easily escape to the great outdoors. The only real mark against The Woodlands is it's relatively low score for walking accessibility, along with its average commuting time of 31 minutes. 
2. Plano 
Plano is another heavy hitter on our list of the best places to live in Texas, scoring highly for just about every metric. It has one of the lowest crime rates in the whole of Texas and some of the lowest taxes in the region. Every business seems to be shifting its operations to Plano at the moment, which makes for exceptionally low unemployment rates and a swift commute. The influx of major corporations means house prices are on the rise, but we think the fantastic sense of community and picturesque neighborhoods make Plano well worth the money.  
3. Sugar Land 
Sugar Land sounds like a sweet place to live, and with a homeownership rate of 81.3 percent, it's certainly somewhere that people are putting down roots. The small city has a population of 85,000 and an unemployment rate of just 3.7 percent. It's also extremely safe with almost nonexistent crime and 93 percent of residents rating their quality of life as excellent or good.
4. Austin
The only surprise here is that Austin, the state's capital, doesn't feature higher up on our list. Austin has emerged as a major tech hub in recent years, making it an attractive and much more affordable alternative to Silicon Valley for tech startups and major companies alike. Although that growth has pushed up house prices and the cost of living, the average Austinite still spends just 23.6 percent of their income on living costs. The thriving tech scene and excellent job prospects have also drawn young people to the city in their droves, and inevitably, the nightlife, music venues, restaurants, and outdoor recreation opportunities have followed. 
5. Corpus Christi
If you like to do most of your living outdoors, then Corpus Christi, with its high affordability and thriving water sports scene, is pretty hard to beat. Sure, Corpus Christi may have a higher level of unemployment (5.1 percent) and a slightly higher crime rate than super safe areas like Frisco and McAllen, but in our opinion, Corpus Christi Bay and easy access to its fantastic beaches make it all worthwhile. 
6. Dallas
They say 'everything's bigger in Texas'. Well, take a trip to Dallas and you'll soon see why. Over 1 million people have moved to the Dallas metropolitan area over the last year alone, making it the fourth-largest in the whole of the country. The eclectic neighborhoods, the country's largest arts district, and world-famous sports franchises attract people to the city, and with median house prices of $172,000, quick average commute times and low unemployment rates, once they make the move, they're usually there to stay.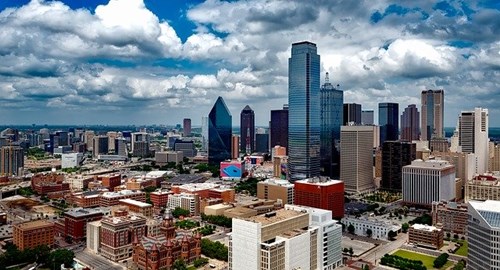 Thinking of buying a home in Texas?
Once you've sorted through the best places to live in Texas and found somewhere you love, rest assured that our appliance repair team is ready to keep your new home in perfect working order. Just get in touch for a free quote today.